Tagged as one of the most iconic and famous buildings of Prague, Powder Tower is a must-visit for all the tourists or first-time visitors.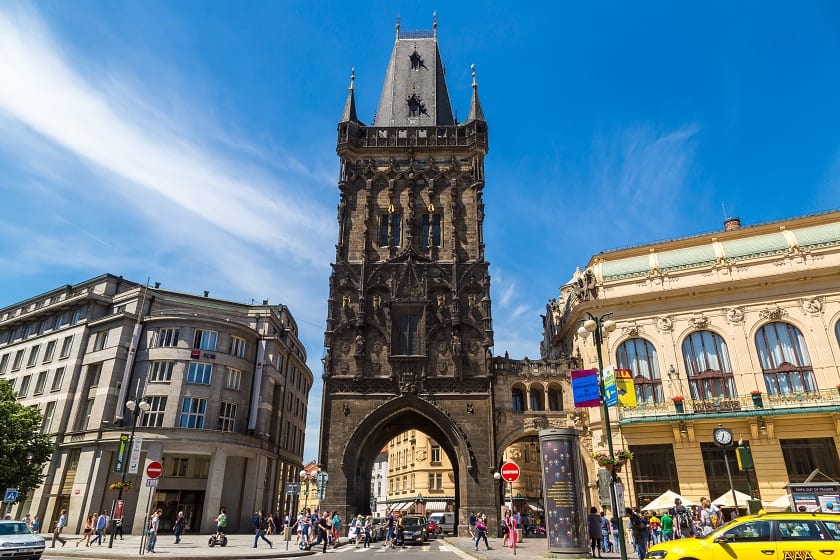 Powder Tower is also known as Powder Gate and is a gothic-inspired tower. It is a source or gateway to the Royal Route of Medieval. It also has a passage which connects the tower to the Municipal House and is very interesting to walk through. This tower is one of the greatest sights of Prague as it was the beginning Celetna Street. It was considered as a very important element in the king's coronations in Czech Republic.
History of Powder Tower
This powder gate or tower was the 13th gate of the old town and was built in 1475. Sadly, it was burnt entirely in 1541. However, it was shortly reconstructed and fast forward to 200 years ahead; this tower was utilized for storing gun powder. Thus, the name of the tower took birth, and it was termed as "Powder" tower.
Opening Hours
Being one of the most significant towers or gates of the late gothic Prague, Powder tower deserves a visit by all means. It is not just beautiful in terms of architect and art, but it holds a lot of information about the city too.
The opening hours of Powder Tower vary from season to season:
In March, the tower remains open whole week, from 10 am to 8 pm.
From April to September, the tower opens at 10 am and closes at 10 pm all week.
In October, the tower's opening hours are same as that of March; 10 am to 8 pm
From November to February, the hours of the tower are reduced, and it stays open from 10 am to 6 pm, all week.
Entrance Ticket Fee:
As it is a tourist spot, you certainly cannot enter this gothic architectural beauty for free.
Basic ticket costs you 100 CZK.
The reduced ticket costs you 70 CZK.
For the family the ticket is 200 CZK.
You won't be allowed to enter the tower 15 minutes before the closing time. The last fee is taken 30 minutes before the closing time because that is the fair estimate of time, one needs, to explore the place. However, if you want to discover the area in peace and at your ease of time, then it is best that you either visit early morning or at least 2-3 hours before its closing time.
How to Get There?
You can quickly get to the Powder Tower by the Metro Station, Náměstí Republiky, Line B.
You can also take the Tram Stop, Náměstí Republiky, and lines 5, 8, 24 and 26 to get to the destination.
You can also take Uber, directly from your hotel to reach the Powder Tower. Prague has great Uber facility and you won't be disappointed at all. However, you might need to learn some basic Czech language words to communicate with the driver. So while you are in Prague, don't miss out on the Powder Tower at all. It holds a lot of history and has immense significance in the life of Czech Republic natives too. Enjoy the architectural beauty of this tower and explore Prague, at its best.