Old Town Square is the central square of the old part of Prague and is also known as Staroměstské náměstí in Czech. This square, along with Charles Bridge, is one of the most significant attractions in the capital of the Czech Republic and is visited by thousands of tourists every year. One cannot miss out on this square as it is one of the most prominent tourist spots of Prague.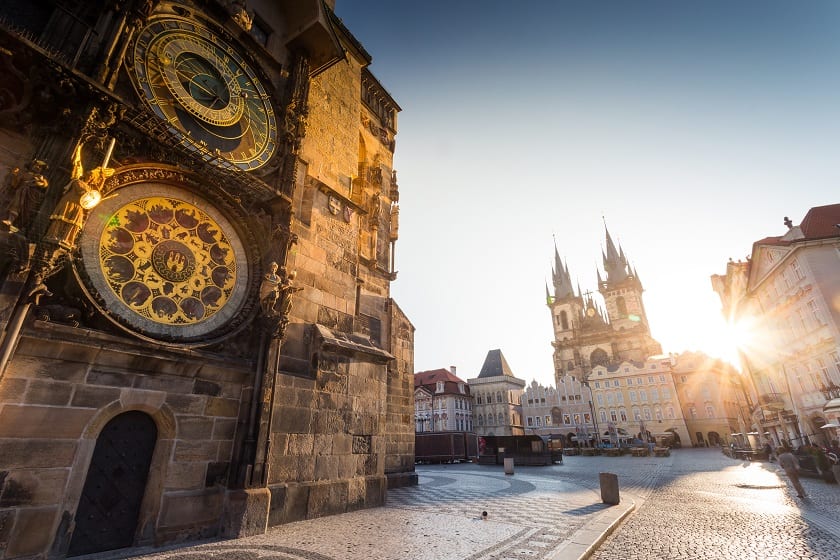 As beauty comes first for a tourist, Old Town Square is recommended right away to all the people who are visiting Prague for the sake of tourism. This town is famous as an open book of the architect as it holds immense details and artistic elements. It is a profoundly beautiful place to visit and explore through, and one would never regret going there.
The Main Sights in Old Town Square
So what is there to see and discover in Old town square? Well, being honest. There is a lot that one can dive deep into while exploring through this square. To begin with, The Astronomical Clock is the biggest attraction here. This clock has been mounted on the Old Town Hall and is said to be an old astronomical clock. Each morning, people line up outside the hall to see the top show at this square, which takes place, every hour, between 9 am and 11 pm. The clock is named Orloj, and the lower part of the clock showcases a calendar dial. It also shows the current day on another beautiful dial which is worth capturing images of.
The Old town Hall is unique as it is the connectivity of different medieval buildings. The structure of it is very complex but holds massive architectural beauty for everyone. Moreover, the old town hall was completed in 1364, and at that time, it was termed as the tallest building, standing in the Czech Kingdom.
Another major attraction spot near old town square is the Church of Mother of God before Tyn. Even though this Church is not within the premises of Old town Square but is much known because of it, as it is visible from all over the square. Furthermore, on the northwestern side of the Old Town Square is the St. Nicholas Church was built in the 18th century.
The House of the Minute is another beautiful location, right beside Old Town Hall and is worth visiting. One of the most famous writers, Franz Kafka, lived in it along with this family, in the 19th century. Storch House is also an excellent townhouse which was built in the 19th century in a Neo-Gothic architectural style. It's incredibly painted facade makes this building unique from all the others that it is surrounded by and is a definite to visit.
How to Get There?
Station Staroměstska, on the line A. Tram lines: 2, 13, 14, 17, 18 and 93 are the nearest stops and trams that get you to the Old Town Square. If you like walking, then, Mustek Station is a great stop to start walking by from, towards the square. There is a lot to do and discover in Old Town Square, and while you are in Prague, you do not want to miss out on this beauty. It shines with glitz and glee during Christmas and is a sight worth seeing. Old Town Square is an architectural beauty that every tourist's eye loves!