Charles Bridge is one of the top 5 most amazing places to visit in Prague. No doubt, this capital of Czech Republic is house to several ancient and modern buildings which are worth visiting but Charles Bridge is like none other.
Charles Bridge is a medieval building which is considered as one of the most famous bridges of the world. It connects the tourists to the most eye catching era of Prague which is worth visiting because you certainly want to capture some of the best and breathtaking views of it. It has also been tagged as one of the most beautiful bridges in Europe. No exaggeration, but this bridge has earned a lot of love and appreciation by tourists, from around the world. So there is no way that you can miss out on visiting this attractive bridge while you are in Prague.
It is a 516 meter long bridge which is 9.5 meters wide and 13 meter high. Standing on 15 pillars, Charles Bridge is a part of the Royal Route. It was named the Stone Bridge originally but due to Emperor Charles 4, the bridge's name was changed and has been Charles Bridge since 19th century and has been it, since then.
Rich in Art
The Charles Bridge is extremely rich in art and has very beautiful, decorative lamps all across it. There are great statues on the bridge too which have been carved really well and are magnificent to look at. Every art piece or statue has its own story and you can certainly spend some hours, exploring it all. However, the most famous and significant statue of all times on Charles Bridge is that of St. John since it has a huge religious context to it.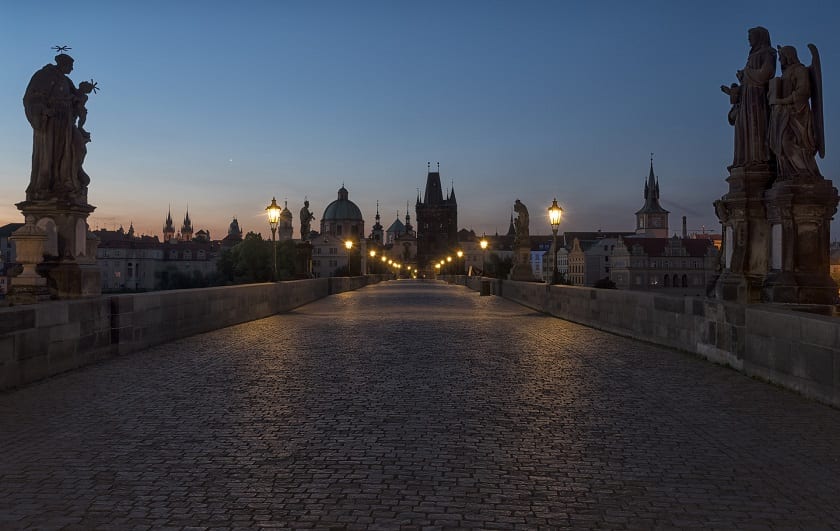 Location and Opening Hours
It is very easy to find Charles Bridge as it is one of the most prominent and famous tourism spots in Prague. You can either walk towards the bridge from the Prague Castle or can easily rely on the Malostranské náměstí" tram station to take you to the bridge. If you want the nearest station towards the bridge then you can take the Karlovy lázně station too. Uber taxi also takes you to the bridge easily. You can order one from the ease of your hotel room and reach the bridge in comfort too.
There are no opening hours for the Charles Bridge as it is accessible 24/7. Also, there is no entrance fee for it as well. The bridge is completely free of cost. It has been 200 years since the toll collection of this bridge came to a halt.
Being one of the most prominent and most visited tourism spot of Prague, one should not miss out on this one at all. You would definitely enjoy being on the Charles Bridge and are going to have some very eye catching photos to take along with you, as memories. So while you are in Prague, make sure that you do not miss out the Charles Bridge and fit it in your tour somehow. It is worth your time and attention.